How Your Business Can Develop A B2B Marketing Strategy
Zift has partnered with leading B2B marketing strategy technology and consulting company Robotic Marketer to deliver channel partners with an easy, affordable and smart way to develop marketing strategies aligned to business goals.
Every business needs a marketing strategy aligned to business and sales goals. By clearly defining where your B2B business is heading in a 12 month or 3-year period, the entire business operations can align their strategies and seamlessly follow through on delivering on expectations.
Why partners need a marketing strategy
You are 313% more likely to achieve your business goals with a documented marketing strategy in place. (Source: Coschedule)
Furthermore, your business is 356% more likely to be successful in reaching goals if you proactively plan marketing projects and campaigns. 
Top performing partners in the channel are organized, set sales and marketing goals, document strategy, proactively plan marketing projects and campaigns and use project management processes to ensure that all tactics are delivered on time and within budget.
As part of the Robotic Marketer service, we deliver:
Introductory conversation to ensure that you and your team are well-prepared to discuss your business and sales goals, with a firm understanding of your current status and future direction.
Powerful facilitated marketing workshop with your team covering your business goals, marketing objectives and tactics such as lead generation, brand building, publicity, digital marketing, website, awards, case studies, influencers, social media and more. Think a combination of information gathering, consultative discussion and brainstorming.
Comprehensive marketing strategy report detailing everything you need to do to market your business, build brand and deliver on sales goals. 12-month implementation plan covering all projects and campaigns with allocated time frames for delivery ensuring that your company can allocate resources and budget where need be.
A digital dashboard to manage your marketing strategy performance, keep on top of your competitors, adapt to digital movement, source content direction and interact with influencers.
This marketing strategy process is a proven model to delivering successful marketing outcomes in the channel. Nothing is left to chance.
It saves companies time, money and resources, helping B2B companies go-to-market faster, with more targeted campaigns, driving better marketing performance overall.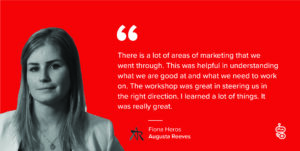 Rather than rely on a marketers gut instinct or experience limitations, Robotic Marketer draws on machine learning and artificial intelligence to sift through hundreds of thousands of data points. By pinpointing the most relevant information and sorting through research data can be analyzed against best practice.
Robotic Marketer technology also learns from past marketing campaigns. The use of benchmarking cleverly ensures that when you are doing marketing, you are putting your efforts in the right place, at the right time and deriving predictable results.
For more information on signing up to Robotic Marketer, click here.