Discover Robotic Marketer's Marketing Strategy Technology Platform
Robotic Marketer marketing strategies are faster, smarter and more intuitive than the way marketing strategies are developed today. Find out how your company can catapult its marketing success through using Robotic Marketers marketing strategy technology platform.
AI-Powered Marketing Strategy
Discover the power of using AI to develop your marketing strategy.
Robotic Marketer marketing strategy technology platform will provide your company with a fast, efficient and smart way to market your business.
Instead of spending tedious days and weeks developing strategy, simply enter basic data into the 'robot' and have your comprehensive 50+ page marketing strategy written for you.
Expect a comprehensive bespoke 50+ page marketing strategy aligned to business goals with the added benefit of automated Executive Summary, Budget and Marketing Execution Plan outputs.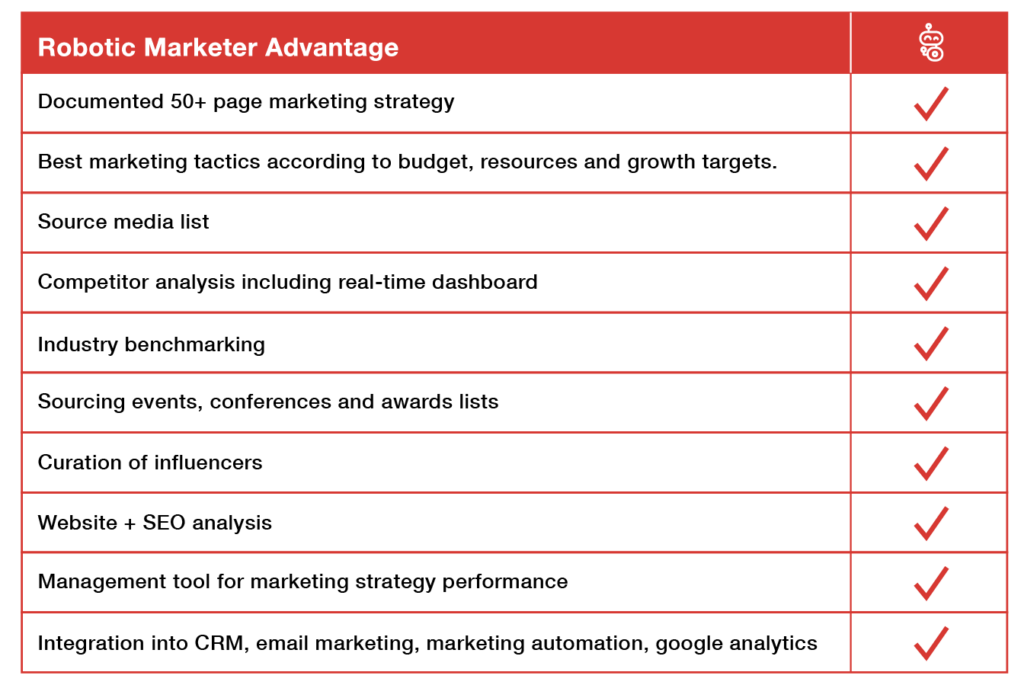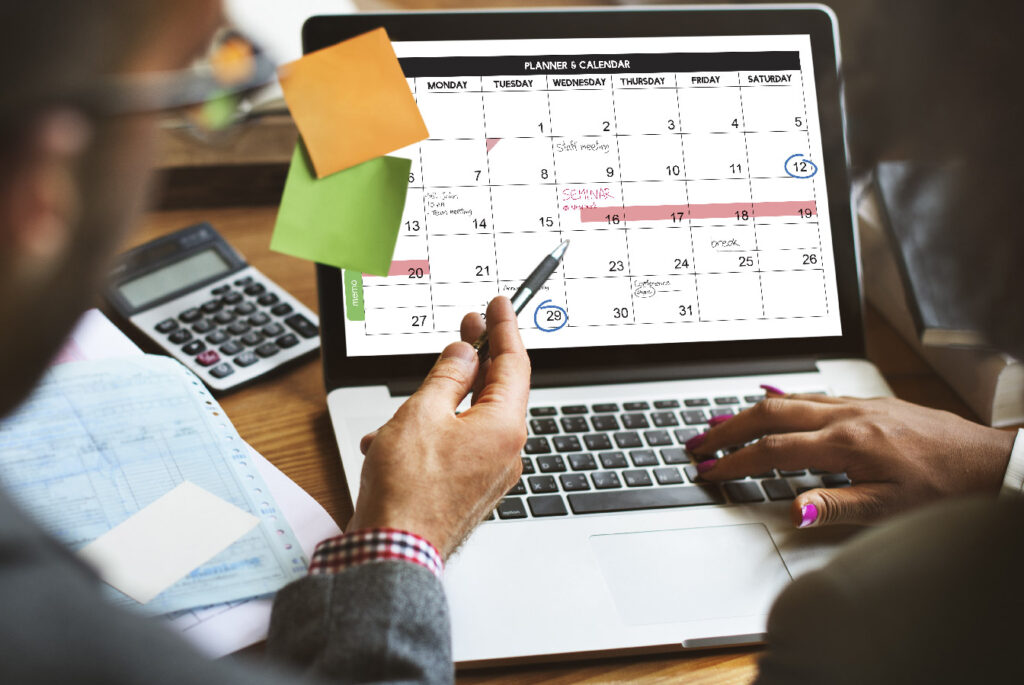 12-Month Implementation Plan
You have a marketing strategy, then what?
Robotic Marketer knows that with every strategy, you need an implementation plan. Better still, you need to know what resources and time is required to ensure the marketing strategy is implemented.
The marketing implementation plan covers 12 months of marketing activities with set key marketing tactics, estimated time frames to perform each task and scheduling.
The added benefit is the implementation plan is easily integrated into project management software and is designed to keep your team and agencies on-track to delivering on goals.
Executive Summary
Automated Executive Summary Snapshot
When you manage the marketing function in a business, one of the key communication requirements to management is an overarching view of the marketing strategy.
Robotic Marketer automates a two-page Executive Summary of the entire marketing strategy, generated to provide one less job for your marketing team.
The Executive Summary covers financial goals and budget, KPI's, key messaging, customer personas, competitor insights and marketing tactics for a 12 month period.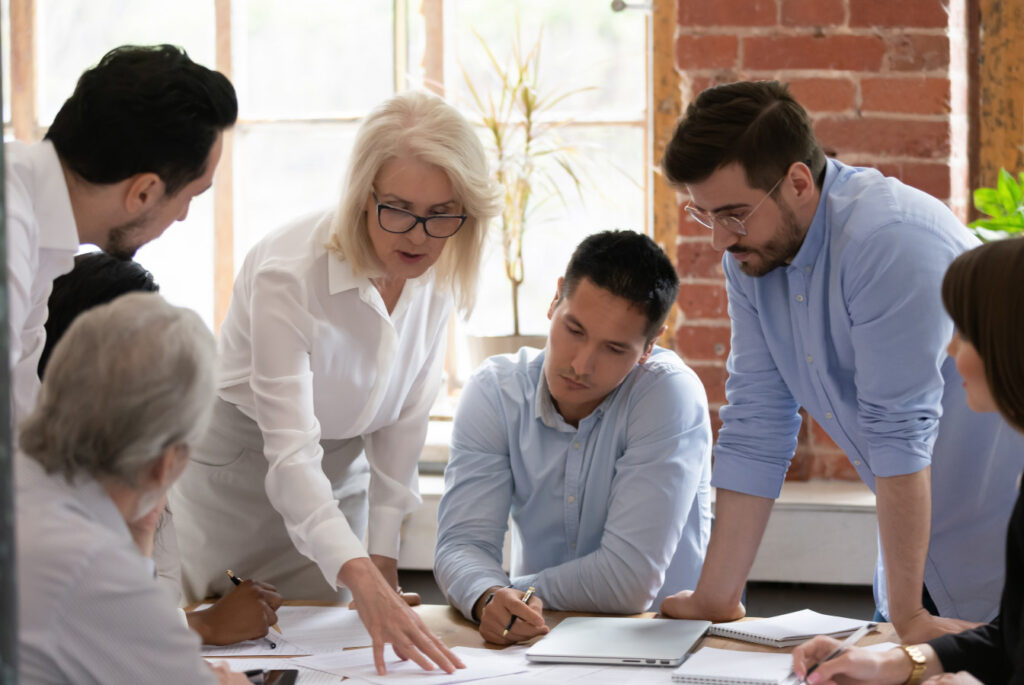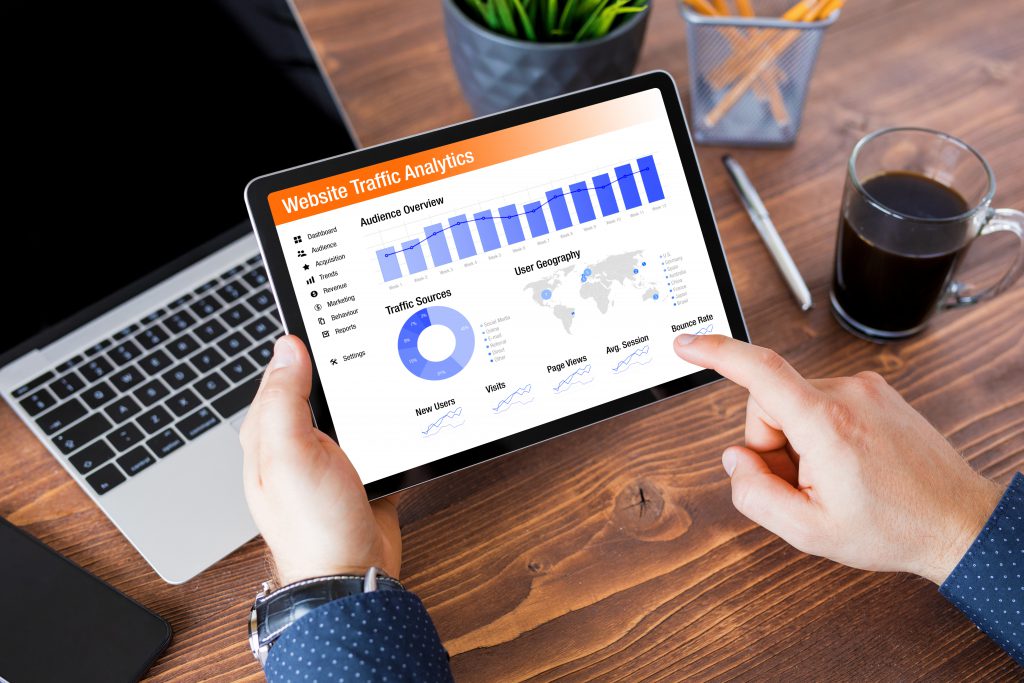 Budget Analysis
Build your marketing budget
Robotic Marketers budgeting tool cleverly identifies and predicts the best possible allocation across all areas of marketing with deference to your industry, size of business and growth forecasts.
Leverage industry best practice and benchmarking to help you allocate budget and predict better marketing outcomes.
Solidify your marketing spend with performance metrics
Allocate funds to fast-track marketing success
Use Robotic Marketer to "sell your plan" internally
Digital Dashboard
Manage your entire marketing strategy performance in one place.
This real-time AI-powered digital dashboard manages your entire marketing strategy in one place.
From your digital performance through to competitor social media analytics, keywords, hashtags, blog headline curator and integrations into the top marketing technologies – the digital dashboard has it all!
The power of the digital dashboard is the way AI powers the performance of your marketing function with automatic syncing into marketing technologies.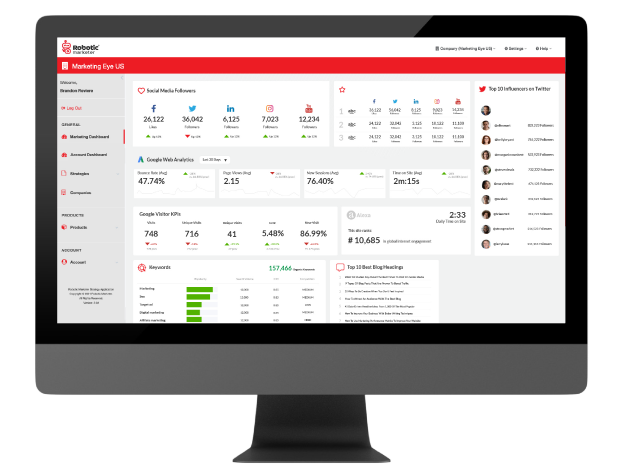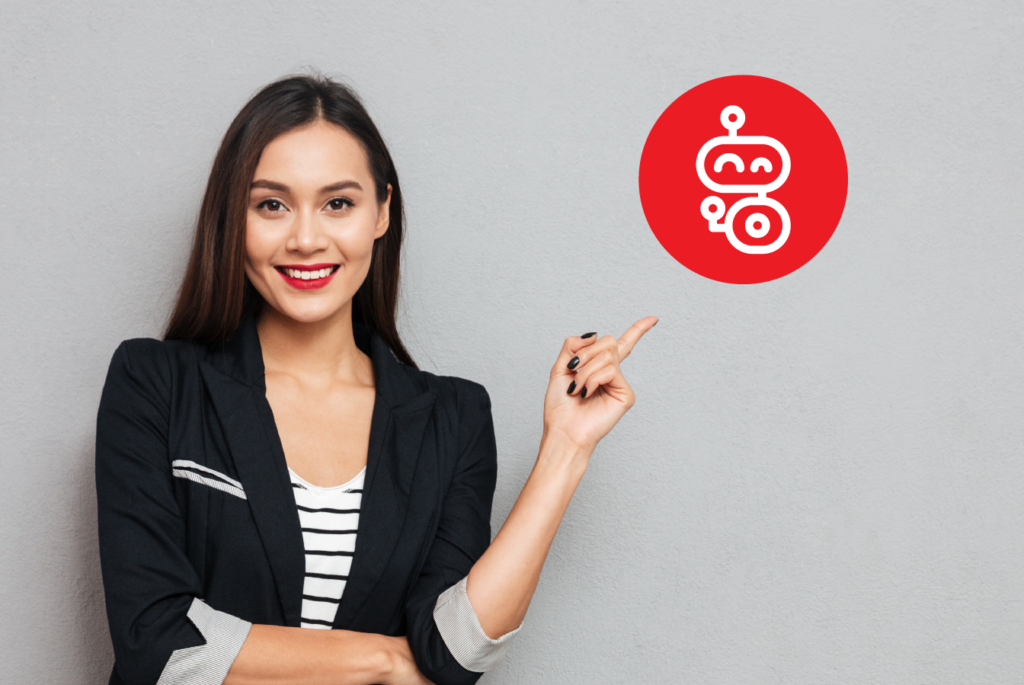 Book a Demo
Benefit from a higher performing marketing strategy
Robotic Marketer is the marketing strategy platform that helps you connect all areas of your marketing plan with other third-party technologies and insights, to produce a high performing marketing function in your business.
Learn more about our industry-leading capabilities and see the platform in action.
Use the time of your marketing team and external resources wisely
Integrate your marketing strategy and implementation plan with a AI-powered digital dashboard
See your performance and your competitors on one screen without leaving your screen
Client Testimonials
We didn't know what to expect when we began working with Robotic Marketer. However, we have been very pleased with the detailed analysis, idea generation, and comprehensive action plan provided to us. The team are very pleasant to deal with and really know their stuff!
Seton Leggett, COO Arrow Private Wealth
I've started to integrate the messaging and social media strategies from the AirDeck Marketing Strategic Plan for 2021. I am truly impressed at the clear results and action items presented in the plan. It's hard to believe that most of this was produced by AI. Every time I think I've digested all that was provided, I go back and continue to find action items for whatever marketing efforts I'm working on.
Starting my new role as CMO for AirDeck, Robotic Marketer has truly fast-tracked my goals for marketing. This is so vital for startups as time is valuable and instead of spending months on this, I was able to provide a marketing direction for the company in just a week! And the plan is rock-solid.
Thank you to you and your team for helping do my job better.
Jack Phan, CMO AirDeck
The interview process was painless, and we learnt early on that Robotic Marketer knows the SAP ecosystem. The resulting strategy hit the mark 100% compared with previous marketing companies that failed to demonstrate an understanding of our target market.
Marissa and Phil Shipley, CompliantERP
"Again, many, many thanks for the excellent meeting. The content that you create is incredible detailed and really high quality! It is going to take us days to crawl through to truly appreciate it's full value to Emergys. My recommendation to SAP: Don't let any other partner have access to this stuff – it's too good and would be wasted on them! "
David Robson – Executive Vice President, SAP Channel Partner, Emergys
The strategy really highlighted things we were not doing well, where we could make improvements and suggested new ways of doing things. We only wish we had tapped into Robotic Marketer's expertise earlier for improvements in our marketing and for additional marketing services, but we got busy.
Gary Young, VP of Sales & Marketing, VantagePoint
Great workshop and strategy! Lots of things we can do to improve our marketing. Helps set the standard for marketing services and improve our current marketing strategy. Very informative!
Soumaya Ben Slama, WYNSYS
At McCoy, we want to optimize our marketing efforts. The team at Robotic Marketer are experts on how to create an active marketing function, shedding light on our current position and how it compares to competition. The marketing strategy provided an extensive and clear roadmap that will help us now and as we move into the future. We have already started to deploy a number of tactics provided in the deliverable. Thank you very much for this very positive experience.
Mirjam Verzjil & Jacques Scheutjens, McCoy & Partners
The workshop and strategy were really good. It will help us internally get buy-in to marketing and exeternally connect with customers and raise our profile around SAP solutions. We liked how Robotic Marketer helped us understand how to develop lead generation campaigns in LinkedIn and leverage this social media platform, and overall stand out from crowd with our marketing tactics.
Oyvind Stensby, Enterprise Application in Experis Norway
There is a lot of areas of marketing that we went through. This was helpful in understanding what we are good at and what we need to work on. The workshop was great in steering us in the right direction. I learned a lot of things. It was really great.
Fiona Heros, Augusta Reeves
It was a very controversial workshop with very useful insights from our perspective to get us thinking about marketing. Super valuable.
Sam Garwood, Veritas Prime
Our Clients
At Robotic Marketer, our marketing consultants have built some of the best and most productive of relationships that are rooted in a desire to create a marketing plan to achieve greatness. We have offered marketing consulting services to a range of clients from small to mid-sized companies who through the Robotic Marketer platform seek to develop refreshed a marketing strategy that will help them stand out of an ocean of competition.