Robotic Marketer Blog Posts from June 2020
With an average of $44 ROI on email marketing there is no denying it's benefits to expanding your business.  However, capturing those clients and ensuring they are making the click to consume can be hard. Let's have a look at how you can convert your database and maximise your efforts.
Welcome Emails
This is one of the most consistently successful tactics. With the average rate of clients opening a welcome email at 82%. There is no denying that this is a highly enticing number, but it doesn't end there. If you have 82% of subscribers opening your welcome email you have to make sure that the content, you are delivering is enticing making them want to continue their subscription. It's also a way to say thank-you to your subscribers and show you care.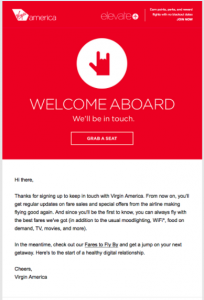 Source: Hubspot
What makes this so great? It's bold, relevant and lets subscribers know what they are going to receive. It also has a call to action by allowing subscribers to 'grab a seat' and buy a ticket.
Try Testing Different Campaigns
This technique can work wonders because you can see how your subscribers respond to different content. If a particular approach was unsuccessful you can immediately stop sending emails and work on a more successful approach, as opposed to always sending the same format or style of email and wondering why it's not generating leads.
By using an A/B tester, you can also test many different elements such as a call to action, subject line, personalisation, or the body of the text. Then determine how to accurately reach your goals.
Personalising is a Trend That Works
Whilst everyone wants everything personalized from phones, bags to throws, that doesn't exclude emails. When an email has a personalized subject title it can generate a 50% higher open rate. You don't just have to personalise through the subject title, you could mention their name in the opening line of the text or send out a birthday email.
These sorts of techniques will increase customers opening the email but also increase click-throughs which will then generate leads and stop customers from unsubscribing. It will also help your email stand out in their inbox.
Use Interactive Content
Don't just bore your subscribers with dumping heaps of information on them. Try using a different way to capture their attention. You can use a varied method of showcasing your work through, visual content such as videos and imagery. People are 85% more likely to purchase a product after viewing a product video. It is also an opportunity to deliver different content whilst keeping customers informed.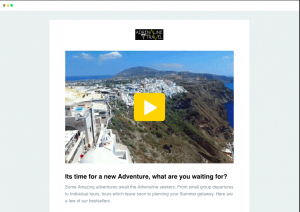 Source: Vyond
You can also work tactically by incorporating polls, surveys, and reviews of their customer experience. This enables feedback on any issues that your clients are having with your business or your marketing methods and you can work on those mistakes.
Email Frequency
The ideal email frequency depends on your type of product or service and the amount of content you have. If you don't have enough content or nothing to say don't send anything out. The last thing you want to do is send a pointless email and have people unsubscribe. You need to find balance because you also don't want to send emails overloaded with content. A happy industry median is usually weekly, fortnightly, or monthly. Just remember, you want to be remembered but not annoying.
Finally remember content is king. This cannot be stressed enough. Always use emails as your stage that your product or service is performing on. Highlight the best features, benefits, and assets in an enticing way. See what resonates with your audience and be sure to change the direction of your emails to avoid going stale.
Source: Marketing Eye Australia
Are you having trouble converting your leads? It might be because you don't have a lead nurturing process in place. Establishing strong lead nurturing tactics is crucial to growing your business. Without these processes, there is nothing to impact or influence the customer's decision to make a purchase. To truly nurture leads, you need to provide relevant information at multiple points throughout the beginning of their relationship with your business. Below, we have 4 tactics to effectively nurture your leads.
Leverage targeted content
Your approach to nurturing leads will change depending on what the situation calls for. There is never going to be a one size fits all approach, because no two leads are alike. While your content will likely be interesting to multiple leads at a time, don't assume that everyone is looking for the same information. Using targeted, specific content to nurture leads will significantly improve your conversion results. Once you understand each unique buyer persona, your team can begin to create content that speaks directly to their journey.
Focus on multiple touches
Your prospects should receive multiple touches throughout their customer journey. The most successful lead nurturing strategies deliver content that helps prospects progress to the next step in their customer journey by providing relevant information and answering questions along the way. The best touches use a blend of social media, blogs, white papers, or an email campaign. Your prospects should be able to ask any of the questions they need answers to.
Follow up with leads
Setting up an automated system for lead nurturing is a great way to cast a wide net for large groups of prospects, but there is nothing better than following up with interested leads in a timely, well-planned manner. Whether they have reached out to your company for more information, or they've just visited your website and clicked on a specific link, there are few approaches more effective than just following up with interested prospects. Timing is everything, and if you wait too long to reach out to them, you could completely miss your window of opportunity.
Send personalized emails
Personalizing emails for prospects adds the perfect touch to increase engagement with your audience. The important thing about personalization is that it goes much further than just including the prospect's name; most personalized email campaigns are targeted towards customers that have performed a specific action like clicking a link or downloading a whitepaper. It's all about getting the right information to the right people at the right time, creating a greater opportunity for conversion later.
How Marketing Eye Can Help
Marketing Eye is a marketing agency that is committed to the success of our clients. We help to establish new and creative approaches to your everyday processes, including lead generation. Our team provides the best in class approaches to optimize your lead generation and lead nurturing strategies. Contact Marketing Eye today to learn how we can help your organization convert better leads for the future.
Source: Marketing Eye Australia
In an era, post-COVID-19 the internet is taking over. Now a necessity to humans, companies are looking for newer ways to establish a long-lasting connection with their consumers over the internet.
Webinars are taking the business world by storm. A way to connect with your consumers, business partners, and employees in real-time, it breaks geographical barriers. According to the State of Webinar's 2019 report, 79% of the people admit that a brand's video has influenced them to buy a product. Now that this trend is back on the marketing brand wagon, here's why your business should be a part of it!
On a budget? Webinars are the way to go!
Many businesses are looking for cost-effective ways to up their marketing game in the economy today. Webinars are an inexpensive way of connecting with your desired audience. With tools like Youtube, Google Hangouts, Instagram live, Facebook live and so many more, you won't have to spend hundreds of dollars to book a venue. You'd be surprised how much a stable internet connection, a working computer with a camera and good content can do!
The beauty of webinars is that it will allow you to build an audience from any part of the world. It's a great way of expanding your current database or even conducting a survey for your next big product launch. Every new guest has the potential to be an advocate of your business and if the guests on your webinar have their followers, get ready to serve a new pool of audiences for your business.
Marketing 101: Increases brand awareness
The main aim of every business is to increase brand awareness through engaging marketing tools.  Having a webinar will allow audiences to get a visual feel of your brand, resulting in getting your brand in the buying consideration set. You can do it through aggressive marketing or engage your audience in some knowledgeable information about your brand.
81% of marketers claim that videos help them to acquire new leads for their companies, according to Click Meetings, state of webinar report.  You can reach your audience, live, and afterward!
Invite a social media influencer or your business partner across the globe
On-demand webinars are convenient because everyone just needs to have an internet connection to access it. Conducting webinars can allow you to connect with your desired audience at the comfort of their own home.
Webinar engagement converts to brand engagement!
The beauty of scarcity is one of the greatest assets of the marketing community. If you are conducting a live event and do not plan on leaving any digital footprint of it, and if your audience shows up late, they miss a part of it. If they don't show up at all, they miss all of it. The power of scarcity forms the foundation of the webinar campaign, leaving a feeling of FOMO.
With webinars, your audience gets a voice, they can provide you with real-time insights, ask questions, and chat. When the conversation starts, it's a snowball effect for brand engagement.