Case Study: VantagePoint
Website: http://www.vantagepoint-solutions.com/
Industry: Software and Technology
Employee Count: 15+
Locations: Milton, GA
Customer Focused Since: 2007
Countries: United States
Partner Group: SAP
Overall Score Awarded 
9/10
Looking Beyond with VantagePoint.
Through the help of Robotic Marketer's program, VantagePoint undertook a 3-hour facilitated marketing workshop with key stakeholders in the business. From there, VantagePoint was provided with a comprehensive roadmap to achieving business goals and improving marketing performance for the 2020 calendar year.
A marketing strategy with tactical objectives enabled VantagePoint to understand their market position better and work through their strengths, weaknesses and opportunities to determine where they wanted to be as a business by the end of the year.
Robotic Marketer's deep machine learning capability helped VantagePoint understand the market, their competitors and the most effective ways to market going forward according to the resources, budgets and SAP's supporting marketing assets.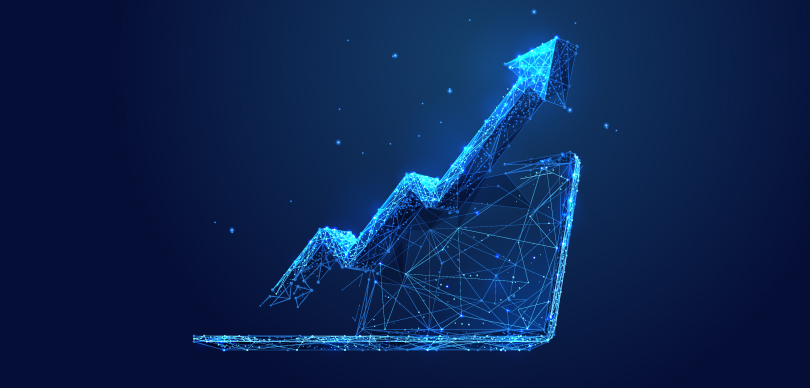 VantagePoint is a premiere service and sales partner for SAP North America that focuses on Enterprise Performance Management, including SAP BPC and Analytics Cloud (SAC). It focuses on delivering solutions relating to financial planning, budgeting, consolidation and reporting that enables effective analysis and better business decision-making.
As an SAP Gold partner, VantagePoint has a proven track record for successful SAP implementations and support services for industries such as manufacturing, retail, energy, insurance, financial and CPG. The company is committed to enabling better business performance and delivering transformative outcomes for companies they serve.
Gary Young, the VP of Sales and Marketing, and Greg Wright, CEO are the owners and key decision makers for strategic decisions relating to improving the marketing performance of VantagePoint as well as maintaining the SAP Partnership. Gary works with the marketing team to strategically enhance the company's efforts in the areas of lead generation, brand awareness and consumer engagement and also represented the company alongside Greg at the Robotic Marketer Marketing Workshop.
Robotic Marketer was the strategic choice to support VantagePoint in building a marketing cadence that would help with raising brand awareness and generating leads beyond the SAP marketplace as the company had previously relied heavily on SAP's direct leads and conducting SAP hosted webinars.
Robotic Marketer directly engaged with SAP and took the time to further understand the various marketing support initiatives offered to the SAP Partner community. This included important digital marketing tactics available on their platform for partners.
Tactics such as email marketing campaigns and templates, social media posts, content syndication and third-party supplier's services are available on the platform. The Robotic Marketer campaign provides partners with a marketing plan and strategy workshop supported by the SAP platform. To get started, VantagePoint simply registered on the SAP platform and then executed the campaign.
"We had our team meeting this week where we discussed on how we can now sharpen our marketing with the tactics provided by Robotic Marketer to achieve our goals in 2020. We are now, finally hiring someone to manage social media, blogs and the website. Also, in terms of lead generation, we currently have 3 campaigns that we've created with SAP"
Marketing Workshop Score – 10/10
As a small company with rapid growth, VantagePoint lacked in necessary resources to execute all of their ideas. Recruitment
of staff was predominately around the area of consulting, which meant that marketing was largely overlooked.
While the company had engaged in marketing by relying on the expertise of Gary Young through his background in marketing and business development, the company was highly dependent on SAP as a vendor to generate leads. Thus, leaving the VantagePoint brand as largely unknown to the target audience beyond the SAP marketplace.
VantagePoint needed a thorough analysis of their internal and external environments for strategic direction on marketing and brand development. Therefore, as an SAP Gold partner, VantagePoint took advantage of the help of Robotic Marketer and its marketing technology to produce a customized marketing strategy that would communicate the brand effectively to a wider audience.
"We have a strong brand in the SAP channel but that also made us dependent on SAP as vendors – we needed to become more independent. The marketing strategy shed light on how we could engage in the right marketing activities to achieve that"
As part of the marketing workshop, Robotic Marketer in collaboration with VantagePoint was able to determine the shortterm, mid-term and long-term sales and marketing goals that needed to be achieved through the marketing strategy.
Short Term Goals (0-3 months)
Build consistent messaging and posts on social media platforms
Create content calendars for social media platforms
Identify key messaging to effectively communicate to target audience
Mid Term goals (3-6 months)
Generate leads in new market areas
Direct marketing into SAP sales to share pipeline
Capture industry focused customer case studies
Capture customer testimonials to distribute on social media and online publications
Long Term Goals (12 months)
Generate brand awareness
Follow up with the idea that VantagePoint becomes well known not only within the SAP client base, but also beyond
Prospects would look to VantagePoint website, content, and webinars for leadership information and insight
Robotic Marketer was able to take VantagePoint through the journey of understanding what marketing strategies needed to be in place to achieve their financial and business goals.
As a rapidly expanding company with plans to become well-known outside the SAP network, VantagePoint needed to leverage social media and other marketing tools to raise brand awareness and build name recognition; something it previously failed to do due to a lack of resources. As part of a new marketing plan, VantagePoint's key messaging needed to focus on customer journey and social platforms needed to effectively communicate VantagePoint's story and value propositions.
While VantagePoint was known to an existing customer database, a new marketing plan was needed to build name recognition in the industry moving forward. This plan would play a vital role in raising brand awareness, increasing the sales funnel and adding value to the lead nurturing process.
"The strategy really highlighted things we were not doing well, where we could make improvements and suggested new ways of doing things. We only wish we had tapped into Robotic Marketer's expertise earlier for improvements in our marketing and for additional marketing services, but we got busy"
Final Strategy Score: 8/10
Based on the strategic recommendations delivered by Robotic Marketer's marketing strategy, VantagePoint was able to make significant, sustainable improvements to the marketing of their company. Robotic Marketer's marketing strategy supported VantagePoint's overarching business plan. Consistent with the future direction of VantagePoint, the marketing strategy was the core driver in raising brand awareness and creating a lead nurturing process that would result in sales. The strategy provided insight into VantagePoint's current marketing performance in comparison to industry standards as well as suggested key marketing tactics for the company to implement.
"The biggest benefit of the Robotic Marketer marketing strategy was related to communication and engagement. While our
brand inside SAP is strong, the strategy provided insight on how we needed to re-craft our message to target customers in the wider market. What the strategy really provided us with was a blueprint to getting the message out, and the tools and resources required for us to do so. We ended up with a great report that allowed us to think about things – what we were lacking in and where we needed to put more attention", Gary states.
By leveraging social media, improving their digital presence and being proactive in building strategic relationships both online and offline through tradeshows, events, employees connecting on LinkedIn, to name a few, VantagePoint was able to achieve the following results: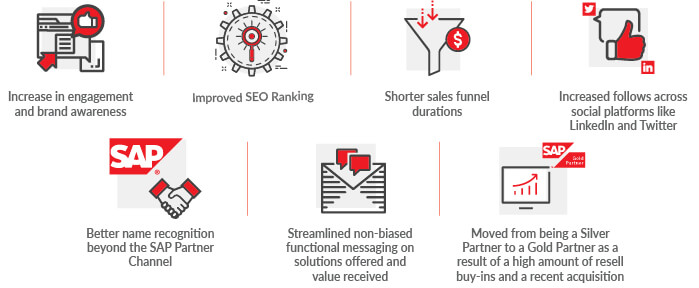 While many partners might be doing tactical things such as putting up social media posts, blogs and hiring marketing people, they may lack in understanding strategy and how that ties to the results they're looking for. Robotic Marketer has the ability to take a step back and provide strategic advice on how you need to achieve an improved marketing performance. Channel partners may have some knowledge on what needs to be done but may overlook several aspects due to a lack of time or resources to execute marketing activations. The marketing strategy really sheds light on things you could have missed, reminds you of things that need to be done and how to strategically align your marketing efforts.
VantagePoint provided Robotic Marketer with a better understanding of SAP software solutions, partner capabilities and internal resources. Through this process, we were able to build on our existing knowledge of the SAP Partner Program
and further learn about the new resources available for marketing activations.
VantagePoint is a great example of an SAP partner who has identified the opportunity of expanding beyond the SAP marketplace by leveraging its current resources. The company is also looking forward to having access to a larger pool of resources as a result of an acquisition in the near future. Robotic Marketer gained additional insight into VantagePoint's internal marketing processes and identified areas of improvement in marketing processes, lead generation and brand awareness. VantagePoint's feedback not only solidified the value of the Robotic Marketer experience but also shed light on improvements that could be brought including having an area for resources that clients could tap into once they have received their final strategy for the purpose of maintaining an on-going relationship.