Case Study: 3RP
Website: https://www.3rp.com/
Industry: Software and Technology
Employee Count: 150+
Locations: 2
Customer Focused Since: 2005
Countries: 1
Partner Group: Oracle
Overall Score Awarded 
10/10
The Making Of A Market Leader – 3RP
By using Robotic Marketer, 3RP was provided with a roadmap to catapult it as a market leader in its existing and expanding markets as well as becoming a key resource to Oracle clients and sales representatives. Robotic Marketer is a world-first marketing technology that provides clients like 3RP with marketing plans that includes an indepth analysis of the market and competitive landscape to achieve the best possible results with data-driven marketing outcomes.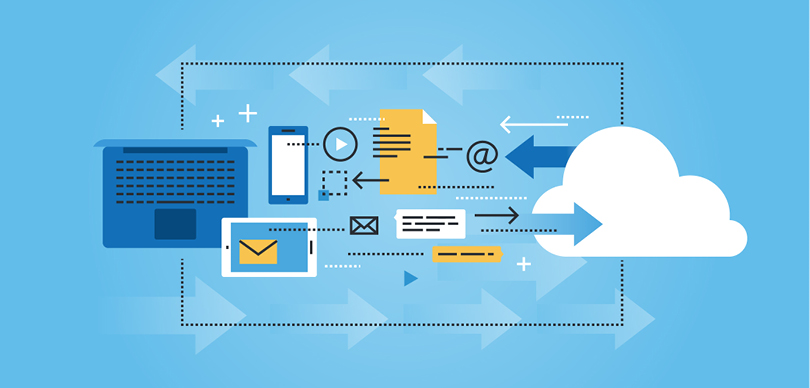 3RP is a leading business and technology consulting company whose solutions aid in closing gaps that can be found across the business and technology space. Its services include enterprise application integration, on-demand development, application professional services, Oracle cloud, Oracle Suite, database managed services and advisory. 3RP is based in Phoenix, Arizona but is a service provider for companies across the U.S.
As the only MFP and Oracle Platinum partner within Arizona, 3RP is committed to helping businesses in the healthcare, transportation, hospitality and manufacturing industries identify opportunities and solve their most complex business and technology challenges through its wide range of service offerings and technology solutions.
Ray Manning is the primary decision maker for strategic decisions relating to improvements in the marketing performance of 3RP. Ray is also responsible for maintaining the Oracle Partnership. Ray works alongside Scott Salomon, CEO of 3RP and a newly hired marketing manager to refresh 3RP's efforts in lead generation, brand awareness and customer engagement – who were also present at the Robotic Marketer Marketing Workshop.
In order to set 3RP up for success, Robotic Marketer was the strategic choice to make it happen.
Robotic Marketer directly engaged with Oracle and took the time to build on its existing knowledge of the various marketing support initiatives offered to the Oracle Partner Network (OPN) community. This included important digital marketing tactics available via the Oracle Digital Marketing Center. This platform includes marketing resources such as, email marketing campaigns and templates, social media posts, content syndication and third-party supplier's services. The Robotic Marketer campaign provides partners with a marketing plan and strategy workshop supported by the Oracle Digital Marketing Center. To get started, 3RP simply registered on the Oracle Digital Marketing Center and then executed the campaign.
"Having no prior marketing strategy, the Robotic Marketer's strategy has been immensely helpful with defining each individual aspect of our holistic marketing needs. This provides us with our "next steps" which have been instrumental in reducing the overwhelming reality of the start-to-finish process of transitioning to in-house marketing. "
3RP outsourced the functions of its marketing department to an external company that was responsible for developing and executing content and campaigns across the various social media platforms of 3RP, namely Twitter and LinkedIn. In addition to this, 3RP also outsourced the responsibility of website development and refresh with hopes of improving their digital presence by increasing traffic to their website, which delivered poor results.
Despite their best-in-the-market business and technology solutions and the efforts put into marketing, the 3RP brand was largely unknown outside their local Arizona Market. An improvement in name recognition and brand awareness was of utmost importance for a company with plans to expand into new markets like Southern California and Denver, Colorado. Therefore, as a key Oracle partner, 3RP took advantage of the help of Robotic Marketer to produce a customized marketing strategy that would present 3RP as a key advisor and market leader.
"The many pieces of detailed constructive feedback which we received were backed with data and applicable examples; we ultimately found to be important in the way that we begin to change the way that we market ourselves."
As part of the Marketing Workshop, Robotic Marketer in collaboration with 3RP was able to determine the short-term, midterm and long-term sales and marketing goals that needed to be achieved through the marketing strategy.
Short Term Goals (0-3 months)
Build consistent messaging and posts on social media platforms
Create content calendars for social media platforms
Identify key messaging to effectively communicate to target audience
Generate leads in new market areas
Direct marketing into oracle sales to share pipeline
Mid Term goals (3-6 months)
Capture industry focused customer case studies
Capture customer testimonials to distribute on social media and online publications
Generate brand awareness within expanding markets such as Southern California and Denver and other potential markets
Long Term Goals (12 months)
Follow up with the idea that 3RP becomes very well known within the Oracle client base
Improve brand awareness and recognition within the Oracle Partner Channel
Prospects would look to 3RP website, content, and webinars for leadership information and insight
3x pipeline of 3RP's growth: predictable, programmatic pipeline
Robotic Marketer was able to take 3RP through the journey of understanding what marketing strategies needed to be in place to achieve their financial and business goals. With plans to expand into new geographical markets and grow as a market leader and go to resource for Oracle clients, 3RP needed to develop and define a stronger brand that would help it stand out from competition; something it previously lacked. As part of a refreshed marketing effort, 3RP's website needed to focus on the customer journey and social media platforms needed to effectively communicate the 3RP story and value propositions.
While 3RP was known to an existing customer database, a new marketing plan was needed to become a known brand in the industry moving forward. This plan would play a vital role in increasing the sales funnel and adding value to the lead nurturing process.
The many areas of feedback given have opened our eyes to many different aspects of our industry as a whole and how we can most effectively grow our business through marketing
Final Strategy Score: 10/10
Based on the strategic recommendations delivered by Robotic Marketer's marketing strategy, 3RP was able to make significant, sustainable improvements to the marketing of their company. Robotic Marketer's marketing strategy supported 3RP's overarching business plan. Consistent with the future direction of 3RP, the marketing strategy was the core driver in raising awareness and position of the company as a market leader in business and technology solutions.
"The expertise Robotic Marketer provided in each of the many different areas included in the report will benefit us significantly in the long-term. It was very detailed and informative and provided us with a format that we can continue to use. The strategy included examples for the short-term but also acts as a template for future use so that when we need to do another refresh/check-in, we will know the areas that we need to look into and the KPI's to measure our success. The more obvious benefit is that having a strong marketing strategy will lead to more sales and recognition within Oracle as well as in the industry", Ray Manning states.
The strategy provided a comprehensive look at 3RP's SWOT, competitive landscape and target market as well as suggested key marketing tactics for 3RP to implement. By leveraging social media, improving their digital presence and being proactive in building strategic relationships both online and offline through tradeshows, events, employees connecting on LinkedIn, to name a few, 3RP was able to achieve the following results: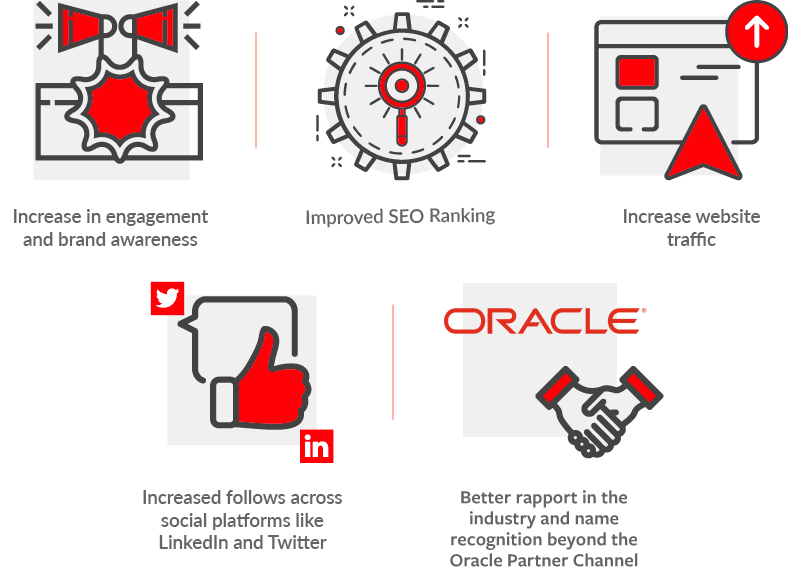 Being able to effectively market and accurately position 3RP to existing Oracle clients & Oracle Sales teams will allow 3RP to contribute to an increased number of successful Oracle sales cycles & engagements. As we increase 3RP managed services client base, being a trusted advisor & authority, 3RP will be able to increase the awareness and client specific use cases for Oracle's offerings. This type of expansion and engagement will also create additional opportunities for Oracle & 3RP, which will be accurately positioned having the correct decision makers and influences, for a more predictable and faster sales cycle from discovery to close.
As an Oracle Platinum partner, 3RP provided Robotic Marketer with a better understanding of Oracle Cloud Solutions to enhance key messaging and market messaging for future Oracle clients. Through this process, we were also able to build on our existing knowledge of the OPN Partner Program and further learn about new resources available through the Oracle Digital Marketing Center for the purpose of marketing activations.
With years of experience in the Arizona market, 3RP was also able to help Robotic Marketer learn on what works and what does not work in the market in terms of marketing. 3RP is a great example of a company that believes in being equipped with the right tools for the foreseeable future and long-term before expanding into new markets. Strategic recommendations were taken as constructive feedback and quick responses from 3RP showed that they understood who they were and were ready for the market to also know who they are.