Become Accredited with an AI Marketing Strategy Certificate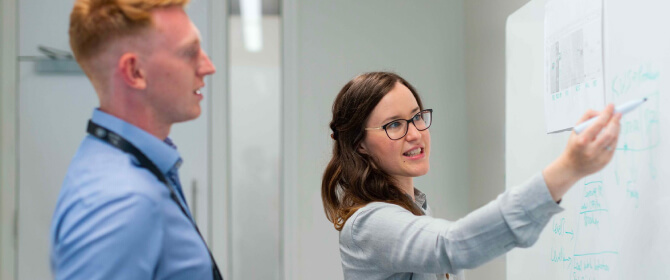 Advance your skills in marketing strategy with AI
Unlock new skills in marketing strategy by learning how artificial intelligence (AI) can be an enabler for better marketing strategies. Lead transformation in the marketing industry and become more reflective, responsive and relevant to business outcomes by understanding, using and deploying AI in the development of marketing strategy.
"AI can understand, reason, and learn from massive and diverse data inputs, as well as facilitate natural connections between humans and machines, stimulating creativity and helping marketers make faster, better decisions when developing marketing strategies."
Market segments have changed, buying patterns have shifted, and consumer behavior has evolved due to the advancements in technology and COVID-19.  Learn how to, when to and why you should use AI in the development of marketing strategy and unearth key indicators of buyer behavior in real-time to ensure key actions can be taken from data insights using AI.
AI Marketing Strategy Course
In this course, you will learn about the role AI plays in marketing, best AI-based marketing practices and the impact of AI on marketing strategy. You will participate in practical use of AI in marketing strategy and become accredited on Robotic Marketer AI marketing strategy technology platform. You will learn the key components of a well-defined, relevant and current marketing strategy. Through learnings during this course, you will be able to define how the organization will successfully engage customers, prospects and competitors in the market arena, discover how to think strategically with the assistance of AI and where traditional marketing fits in to AI powered marketing strategy planning.
Program Benefits
Develop understanding of how AI plays are role in marketing strategy.
Actively use AI platforms to improve capabilities around marketing strategy.
Develop the skills to build an actionable digital marketing strategy that aligns with your business goals.
Apply concepts learned in class on a real-life business case example of your choice.
Examine how companies use different techniques to reach target audiences and learn how to incorporate them creatively in your own organization.
Learn to develop an approach marketing strategy through bringing in key stakeholders within the business and evaluating their roles and input.
Expand your definition of ROI to better understand relevant marketing KPIs that can drive meaningful metrics.
Share ideas and challenges with development of marketing strategy
Earn a digital Certificate of Participation from Robotic Marketer.
Topics Covered
AI's role in uncovering valuable data sources for marketing strategy
Where AI benefits the marketing strategy and where human's still add value
Competitive landscape data mining and evaluation
Customer personas, profiling and journeys
Digital transformation and the impact on marketing strategy
Traditional marketing and digital marketing: where one takes off and another starts.
The pros and cons of influencer marketing
Social media strategies
Search engine marketing (SEM): Organic Search and paid advertising
Who Should Enrol
This intensive online program is ideal for those looking to understand how they can work with artificial intelligence (AI) when developing marketing strategy. Participants should be a marketing or communications graduate or a person with experience in marketing management.
Participants should be familiar with the various social and digital media platforms and have the ability to understand how business drivers apply to marketing initiatives.
Every Specialization includes a hands-on project using AI to develop a real-life AI based marketing strategy for a business. You'll need to successfully finish the project(s) to complete the specialization and earn your certificate.
When you finish every course and complete the hands-on project, you'll earn a Certificate that you can share with prospective employers and your professional network.
Download the Robotic Marketer Brochure