Nike's Swoosh Logo: The Power of Brand Image
Did you know that the world-famous Nike's Swoosh logo was designed by a graphic design student at Portland State University at a rate of $2 an hour?
The student's name was Carolyn Davidson. She helped the then-assistant professor at PSU Phil Knight who found Blue Ribbon Sports and later Nike. Davidson was only looking for extra funds to take oil painting classes at that time and agreed to help Knight as her side job to help his new business out at the rate of $2 an hour. Davidson came up with the tick, which is now known as the Nike Swoosh, along with other few designs. While Davidson states that she doesn't know how long she spent to create the timeless logo, at that time she only charged Knight for 17.5 hours of work. $2 an hour for 17.5 hours – the iconic Nike Swoosh was born with a $35 paycheck.
Despite Davidson was only paid $35 at that time, as Nike continued to grow, Knight honoured Davidson as one of the key minds of Nike and gave her shares of Nike stocks for her contribution which worth close to $1 million today.
Nike is the global market leader in the sports footwear industry with revenues from their footwear of over $24.2 billion, compared to their biggest competitor Adidas footwear revenue of $15 billion. Nike is the definition of sports and sportsman spirit. With its athletic shoes and sportswear, Nike has grown into an athletic and fitness lifestyle brand. The Swoosh logo has taken it far with its branding and it has become one of the most significantly recognised logos in the world.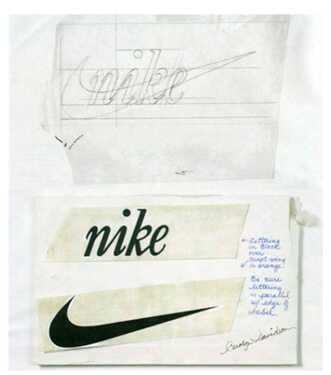 The Nike Swoosh indicates movement and speed. It has the meaning of triumph and victory, as the brand name Nike is named after the Greek goddess of victory. Davidson took inspiration from the goddess's wing. With the design elements from the mythical and historical divinity in mind, she used curves and arches to bring the effect of speed and motion and brought the logo into life. Then sleek and stylised graphic was then further used to communicate passion, energy and dynamism as the brand continued to grow.
The Power of Branding and How Nike Just Did It
Branding is one of the most crucial aspects that creates a memorable impression on consumers and distinguishes the brand from other competitors. A successful brand image gives consumers meaning to identify with and motivates them to achieve their dreams and goals. Nike's Swoosh has a cultural meaning of athleticism, power and fitness. It means 'just do it'. It symbolises athletic excellence and a spirit of determination. Everyone knows Nike, the Swoosh and the meaning behind it regardless of cultural and language differences.
Nike spends 3% of its annual revenues on capital expenditures, whereas on advertising and branding, they spend 10% of their annual revenue to ensure the Swoosh logo remain relevant and is visible everywhere. In 1997, Nike spent $978 million on advertising, marketing and promotion. While this price was sky-high back in 23 years ago, it paid off – the outcome was successful, we all recognise the Swoosh, and Nike's market capitalisation as of July 2019 stood at $140 billion.
Nike has shown us the power of a brand image with a tick. It is culturally understood around the world regardless of language or cultural differences. Performance, authenticity, determination and domination – Nike's ability to capture all these values in the brand and remind everyone with one Swoosh is exceptional and outstanding. Nike's Swoosh is a great example of how a visual has turned a business into a trustworthy brand internationally. The once humble symbol has now turned into one of the most iconic business logos.