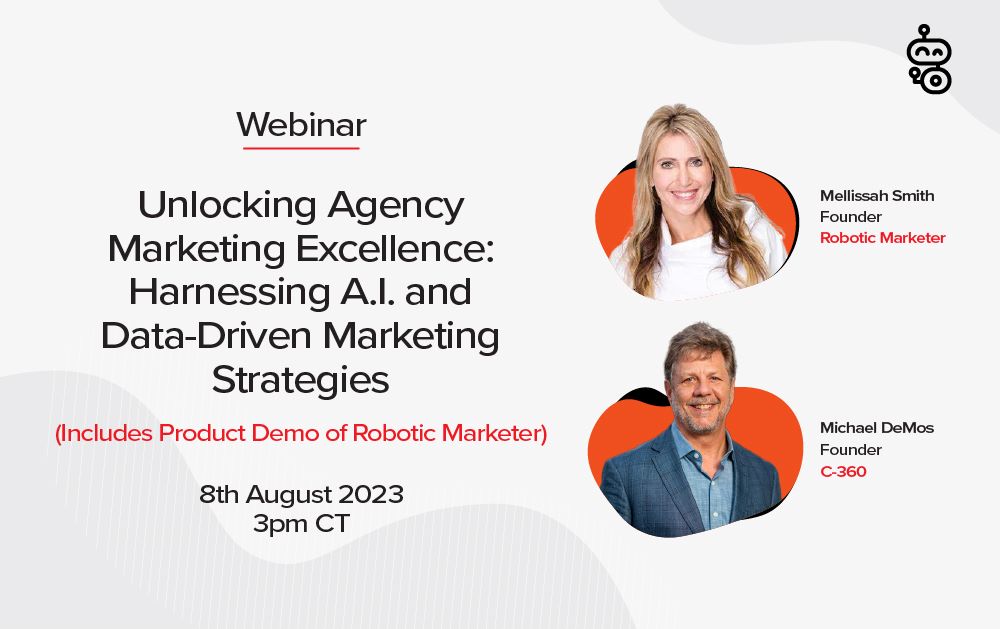 We are excited to extend an exclusive invitation to a webinar designed specifically for agencies in the marketing industry. Join us as we explore the game-changing realm of AI Marketing and delve into the power of data-driven insights. Presenting this dynamic event are two trailblazers in the field: Mellissah Smith, the founder of Robotic Marketer, along with Michael DeMos, the esteemed founder of C-360.
Mellissah Smith, a serial entrepreneur with over three decades of experience in the marketing industry, including 25 years in the technology sector, brings a wealth of knowledge to the table. Her impressive journey led her to start Robotic Marketer in her 40s, a testament to her drive and passion. Mellissah has self-funded the business and spearheaded its expansion, establishing herself as a pioneer in the field of AI Marketing.
Complementing Mellissah's expertise, Michael DeMos has a remarkable 30-year track record of building successful companies from ideation to profitability. His diverse roles and responsibilities throughout his exciting career have provided him with a unique perspective on problem-solving, innovation, and disrupting industries. Michael's invaluable insights and experience will shed light on the untapped potential of AI Marketing and its impact on driving business growth.
Together, Mellissah and Michael seek to inspire you with their knowledge, shedding light on the future of marketing and the immense possibilities presented by AI, providing valuable insights and practical strategies for implementing AI-powered technologies into your marketing campaigns. Don't miss this opportunity to learn from these industry luminaries and gain a competitive edge in the ever-evolving marketing landscape,.
Key webinar highlights:
AI Marketing Unleashed: Discover how AI is reshaping marketing strategies and empowering agencies to achieve unprecedented results.
The Power of Data: Explore the role of data-driven marketing and learn how AI algorithms transform raw data into actionable insights.
Customer-Centric Marketing: Uncover how AI enables personalized customer experiences and drives engagement like never before.
Future-proofing Your Agency: Gain exclusive insights into emerging trends and opportunities in AI Marketing and stay ahead of the competition.
Product Demonstration of Robotic Marketer for Agencies.
Join us on 8th August 2023 at 3 PM C.T. for this insightful webinar that will propel your agency to new heights of success. Reserve your spot now and embrace the future of marketing excellence.