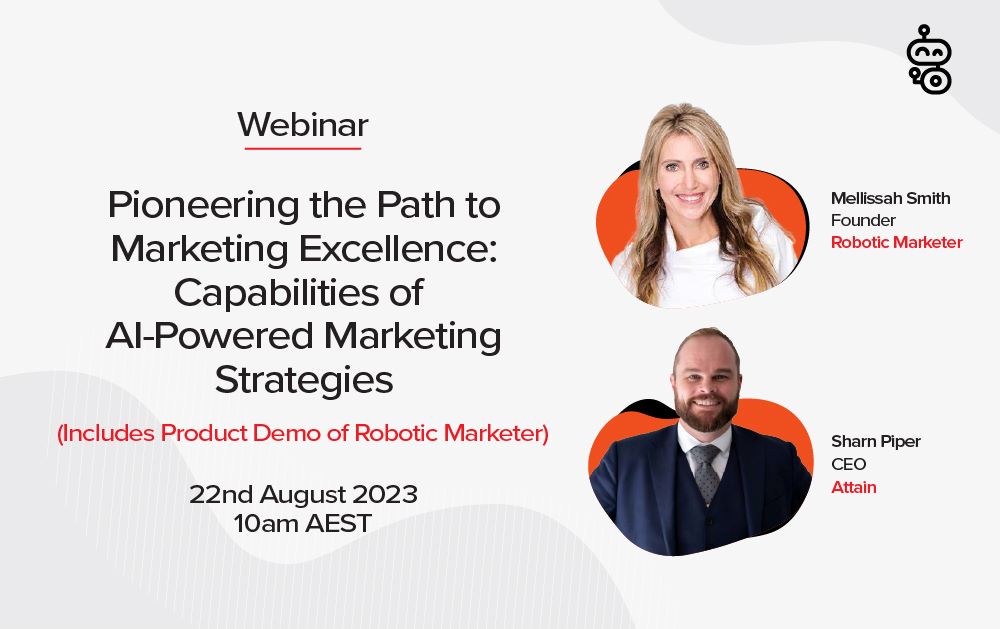 Prepare to embark on a transformative journey into the future of marketing! We are thrilled to invite you to an exclusive webinar hosted by Robotic Marketer, a pioneer in AI Marketing. Join us as we unveil the untapped potential of AI and data-driven marketing insights, specifically tailored for the Australian market.
Leading this session is Mellissah Smith, the founder of Robotic Marketer, along with Sharn Piper, the CEO of Attain. With their extensive industry experience and expertise, these professionals will share their deep insights into AI Marketing and how it can revolutionize your agency's success.
Mellissah, renowned for her wealth of marketing experience and passion for technology, combines her expertise to drive transformative change, helping businesses harness the power of AI for remarkable marketing success. Meanwhile, Sharn, having weathered numerous storms in life and business, has built multiple successful ventures and possesses a profound understanding of creating a sales-focused culture that is robust and delivers consistent results. Together, they will empower you with invaluable knowledge and strategies to elevate your agency's marketing prowess in this era of technological eruption.
Key webinar highlights:
AI Marketing Decoded: Demystify the world of AI Marketing and understand its real-world applications for marketing agencies.
Data-Driven Excellence: Data-Driven Excellence: Learn how AI algorithms transform raw data into actionable insights, empowering your agency to make informed decisions and drive tangible results.
Australian Consumer Trends: Gain unique local insights into consumer behaviors, preferences, and emerging market trends, enabling you to craft highly targeted and impactful campaigns.
Implementing AI Strategies: Get practical guidance on integrating AI Marketing into your agency's operations, leveraging automation and personalization to outshine competitors and deliver exceptional client experiences.
Product Demonstration of Robotic Marketer for Agencies.
Mark your calendars for 22nd August 2023 at 10 am AEST and secure your spot at this insightful webinar with industry experts.
Register now and embrace the power of AI Marketing with Robotic Marketer!