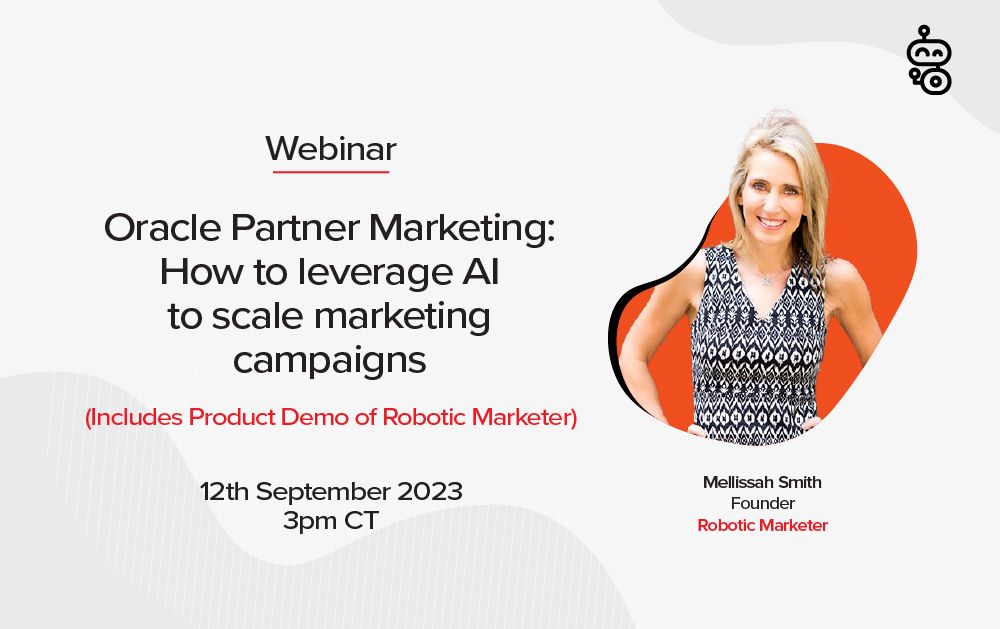 We are thrilled to extend an exclusive invitation to a webinar tailored specifically for Oracle enthusiasts. Join us as we embark on an exhilarating journey through the realm of AI Marketing, unveiling powerful data-driven insights that will redefine your business.
Presenting this transformative event is Mellissah Smith, the visionary founder of Robotic Marketer. Mellissah's entrepreneurial journey demonstrates her resilience and determination to push boundaries and drive change. With a self-funded business and an unwavering belief in the potential of AI, she has been instrumental in spearheading the development of the Robotic Marketer platform, which combines AI technology with marketing expertise to deliver comprehensive marketing strategies.
With her vast expertise in marketing and technology, Mellissah will guide you through the immense potential of AI Marketing and its profound impact on data-driven results.
Key webinar highlights:
Decoding AI Marketing: Discover how AI transforms marketing strategies and opens doors to unprecedented opportunities in the Oracle ecosystem.
Data-Driven Success: Explore how AI algorithms analyze extensive data sets to unlock actionable insights, revolutionizing decision-making processes.
Optimizing Oracle Campaigns: Learn how Robotic Marketer's AI-powered platform empowers Oracle partners to optimize marketing campaigns, drive customer engagement, and achieve remarkable results.
Navigating Future Trends: Gain exclusive insights into emerging trends in AI Marketing and how they can be leveraged to stay ahead of the competition in the Oracle ecosystem.
Product Demonstration of Robotic Marketer for Agencies.
Join us on 12th September 2023 at 3 PM C.T. to be part of this groundbreaking session.
Reserve your spot today and revolutionize your marketing strategies with Robotic Marketer!