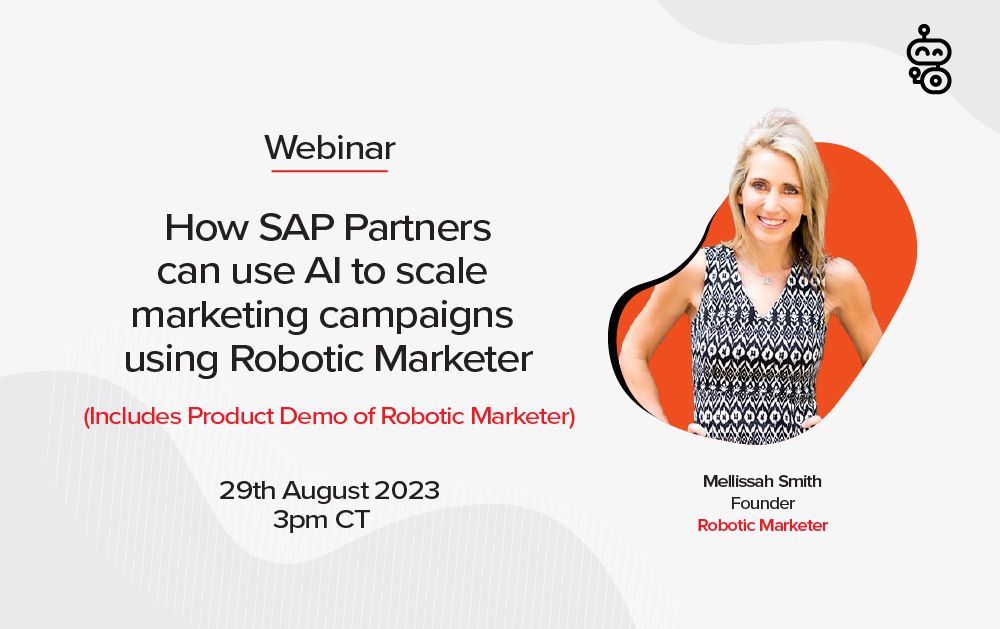 We are thrilled to extend an exclusive invitation to a webinar tailored specifically for our valued clients in the SAP ecosystem. Join us as we explore the game-changing realm of AI Marketing and delve into data-driven marketing insights that will empower your business to reach new heights.
Presenting this dynamic event is Mellissah Smith, who is an accomplished entrepreneur and visionary in the field of marketing, with a passion for technology and innovation. As the founder of Robotic Marketer, she has positioned herself at the forefront of the marketing industry's digital transformation. With over three decades of experience in marketing and an impressive 25 years specifically in the technology sector, Mellissah possesses a deep understanding of the evolving landscape and the power of cutting-edge solutions.
With her extensive expertise in both marketing and technology, Mellissah will showcase the power of AI Marketing and its transformative impact on SAP partners.
Key webinar highlights:
AI Marketing 101: Discover the fundamentals of AI Marketing and its relevance in the SAP ecosystem.
Leveraging Data for Success: Uncover how AI algorithms analyze vast amounts of data to generate actionable insights, enabling you to make informed marketing decisions.
Targeted Campaign Optimization: Learn how Robotic Marketer's AI-powered platform can help SAP partners optimize marketing campaigns, maximize ROI, and drive business growth.
Future Trends and Opportunities: Gain exclusive insights into emerging trends in AI Marketing and how they can be leveraged to stay ahead of the competition.
Product Demonstration of Robotic Marketer for Agencies.
Join us on 29th August 2023 at 3 PM C.T. to be part of this enlightening session. Don't miss this opportunity to explore the
potential of AI Marketing and gain data-driven marketing insights tailored specifically for SAP.
Reserve your spot today and unlock the power of AI Marketing with Robotic Marketer!