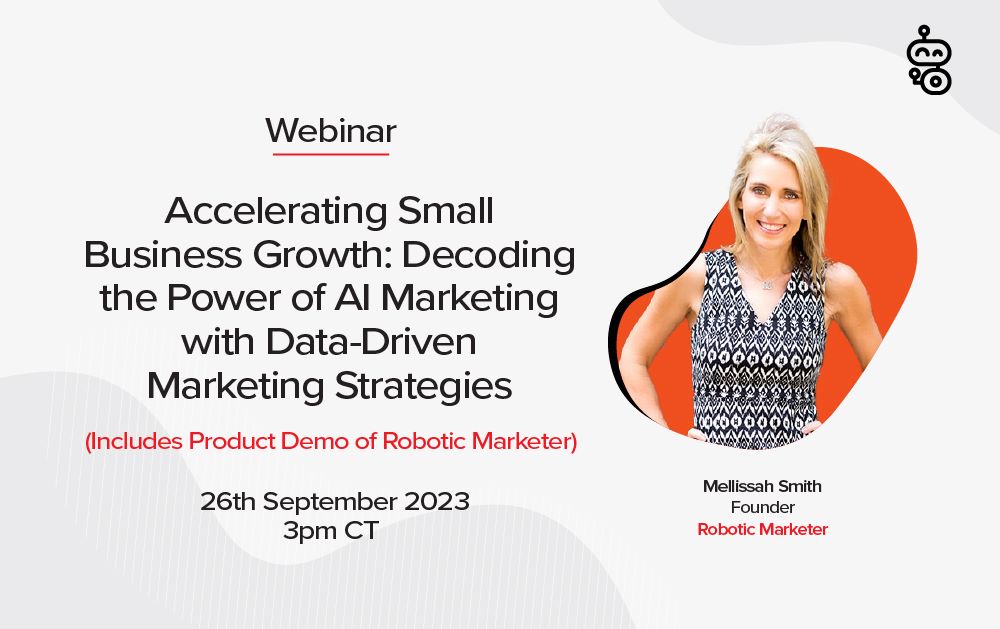 Are you ready to take your marketing efforts to new heights? We are thrilled to invite you to an exclusive webinar designed specifically for small businesses. Join us as we dive into the exciting realm of AI Marketing and explore how data-driven insights can fuel your business growth.
Leading this insightful session is Mellissah Smith, the founder of Robotic Marketer. Driven by a relentless pursuit of excellence, Mellissah continues to push the boundaries of what is possible in marketing. With her innovative mindset and commitment to empowering businesses, she is helping shape the future of marketing through Robotic Marketer's groundbreaking solutions.
With her extensive experience in marketing and a passion for leveraging technology, Mellissah will empower you with the knowledge and tools to harness the power of AI Marketing.
Key webinar highlights:
AI Marketing Demystified: Discover how AI technologies are revolutionizing the marketing landscape and leveling the playing field for small businesses.
Data-Driven Decision Making: Explore the transformative role of data in driving marketing success and learn how AI algorithms transform raw data into actionable insights.
Crafting Compelling Campaigns: Uncover how AI can help you create personalized customer experiences, enhance engagement, and boost your brand's visibility.
Navigating the AI Landscape: Gain practical tips and expert advice on implementing AI Marketing strategies tailored to the unique needs and resources of small businesses.
Product Demonstration of Robotic Marketer for Agencies.
Join us on 26th September 2023 at 3 PM C.T. for an engaging session with Mellissah Smith. Don't miss this opportunity to unlock the potential of AI Marketing and gain data-driven marketing insights that can propel your small business to new heights!